I thought June's EOMV post showed me at my most frustrated and embattled, but I now see that I ought to have considered myself in for the long haul. Both my energy levels and the weather have been terrible since, and so I'm only just putting together a tardy July EOMV.
The landscaping of our garden and our neighbours' is, well:
Stalled. Next door's nephew has ended up on another job, so he won't be finishing their fencing any time soon. And won't be starting our fencing until after that. If it weren't for the politics of neighbourliness we'd have got someone else in by now, except they'd have a month's lead time too. The Welsh rose did say she heard our neighbour giving someone a talking-to today, but nothing seemed to come of it.
Plants, on the other hand, move on: inexorably. I've even had to trim the privet that I hoped would be gone by now:
It's neither straight nor neat, and I don't really care. In the lower photo, top right, you can see it isn't trimmed at all; because I didn't want to damage this hebe, which has been covered in bees the past few weeks:
The flowers on it are starting to go over, but other plants are starting to take the place, including the buddleia and the crocosmia I've been intermittently trying to save from the landscaping that might never happen:
Heaven knows what I'll do to save that lovely, now bronzed, acer.
One thing I'll be happy not to save is the apple tree that has almost completely taken over the garden:
It gets in the way of everything I try to do, and blocks light from all except the few plants I have on the decking. Moving around the garden has become hazardous for someone over six foot tall: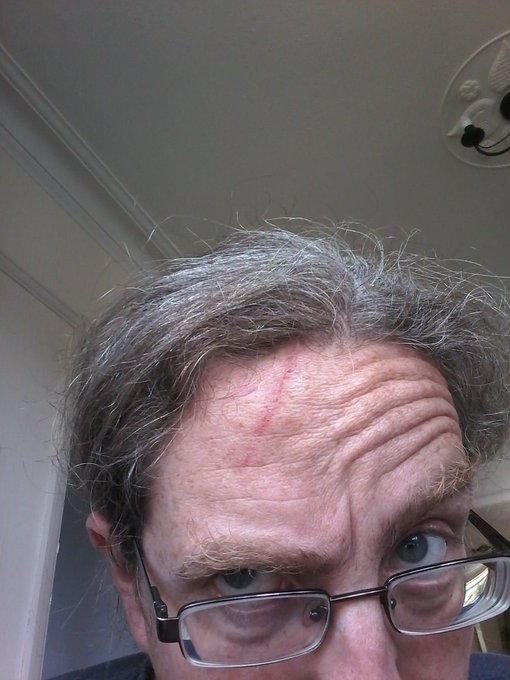 On the other hand, the burgeoning of other plants is heartwarming. Although the Latvian pea plants are starting to go over—cheering in itself, as we have seed crop for next year—the blown chard have recovered well from the flower heads being trimmed, and our two tomatoes are starting to bulk up with their first flowers:
Although the Lamprocapnos is struggling a little bit, my other RHS Malvern plants are happy, and the Geum "Prinses Juliana" might even throw a few more flower spikes out:
It's also cheering to see the Impatiens omeiana recovering more and more while undercover and away from the predators that are everywhere:
And once I'd put the squashes out of the way of the same, scent-hidden with sage, they too have gone full gangbusters:
Some of them probably need repotting, especially now that I've found limited plants suitable for potting into the bigger containers.
Although a lot of people find common zonal Pelargonium plants somewhat tacky and "bedding"-y, I can't help but feel great affection to these few that we brought all the way from Oxfordshire:
They're showing the rosemary and Anthemis (respectively) just how to go about flowering, brightening up the decking and just firing off pellie scents and flowers so red and pink that they look like a printer's error, hyperreal inks accidentally offset from reality itself.
Finally, despite an urgent and severe prune over winter—and it still managed to strangle the motor inside our boiler by creeping inside the outflow pipe!—the jasmine by our front door has flowered, and its scent is obvious every time we pass it:
We might not yet have many plants we truly love: but the ones we do, love us back in equal or greater measure. And affection from a plant, like that from a pet or a wild animal, or your landscaper of choice, can't be bought or sold.
(Thanks to Helen Johnstone for hosting the EOMV meme.)