A bit over a week ago, a few of us stumbled across the well-dressing festival in Eyam. It was the Welsh Rose's birthday
Gwenfar has already written about the dressings, but here's a few more pictures. There was quite the crowd, including a brass band:
The main well-dressing celebrated a number of Eyam anniversaries, with the number of years since they happened:
The detail is mind-boggling: the bay (or hebe?) leaves behind Peter Rabbit, and the hydrangea flowers for his smock:
I love this cat, but I can't work out what leaf could be used to make that black!
The dressings were huge temporary structures: like old wooden doorframes with a classical surround. In contrast the wells were very small, but this second one was especially very much like a hole in the ground:
Detail again:
Like the weird guy/diorama competitions in Cotswold villages, well-dressing appears to have turned into an excuse to decorate your house with, well, whatever you fancy: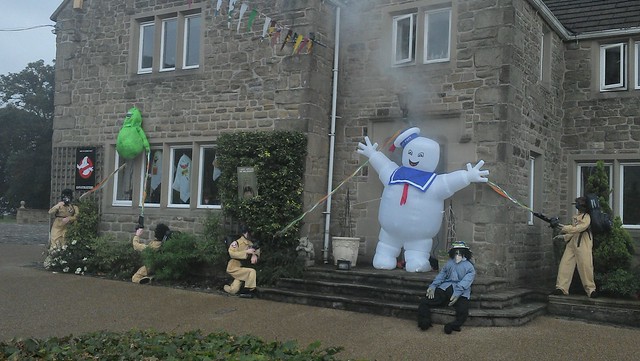 I think that might be Kevin the secretary sat on the doorstep. Elsewhere, a maypole was being decorated:
I can't tell if maypole dances are more or less eerie than Ghostbusters dioramas, but luckily the cafe was calling us away.